Acclaim for Virthos Software
20 April 2007 – The Virthos Software family was recognized for outstanding achievement in the content management category at the 2007 ITK 2007 Innovation Awards.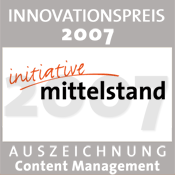 The ITK Innovation Awards have been bestowed once a year since 2004 by the Initiative Mittelstand (SME Initiative) during CeBIT, and are intended to recognize companies that furnish innovative products and solutions to medium-size enterprises in Germany. This year, over 1,200 products competed in 33 categories. Monetary awards totaling €150,000 were at stake. The overall winner of the 2007 ITK Innovation Award was Kindermann & Co. GmbH for its KX 2900 product, an XGA data projector with a telescopic pointer that can be used like a wireless mouse. In addition to the overall winner, the winners in the Web 2.0, BPM and ERP categories were also singled out at the awards ceremony.